The following are reviews I have cut and pasted from Facebook, Tripadvisor, Craft Courses and kind words which were sent to me in person. Thank you to everyone who provided feedback……….
---
"I was so excited to try my hand at batik again after an almost 30 year break. My day with Sue did not disappoint.
I booked online and was promptly contacted with payment details and all the housekeeping information I'd need.
Sue made me feel so welcome. Her home studio is a well-equipped oasis of calm. As an experienced practitioner, Sue was able to adjust the session to suit my needs and incorporate my experience.
The session was well planned and thought out. All materials were provided. Sue is a fount of knowledge on all the equipment we used. Sue is so encouraging and offered suggestions of techniques and colours for me to try.
The day moved at a gentle pace which allowed time to explore different tools and techniques. I am delighted with the end result. A beautifully framed piece that I will treasure.
Thanks Sue, for being so generous with your time and expertise. Your warmth and encouragement was just what I needed to get myself back into batik." ~ Suzanne O
---
"This is a fabulous worksop and easily accessible by all. You can get a great result irrespective of your artistic ability. Sue is a fantastic teacher who gives you both the skills to get the technique right but also the freedom to use your imagination. You come away with a piece of artwork to be proud of. I shall be back for more!" ~ Helen P ……(and she was!)
---
"Great day with Sue learning how to batik – she creates a relaxing atmosphere where you can have fun playing and come out at the end with a finished picture ready to hang." ~ Liz H
---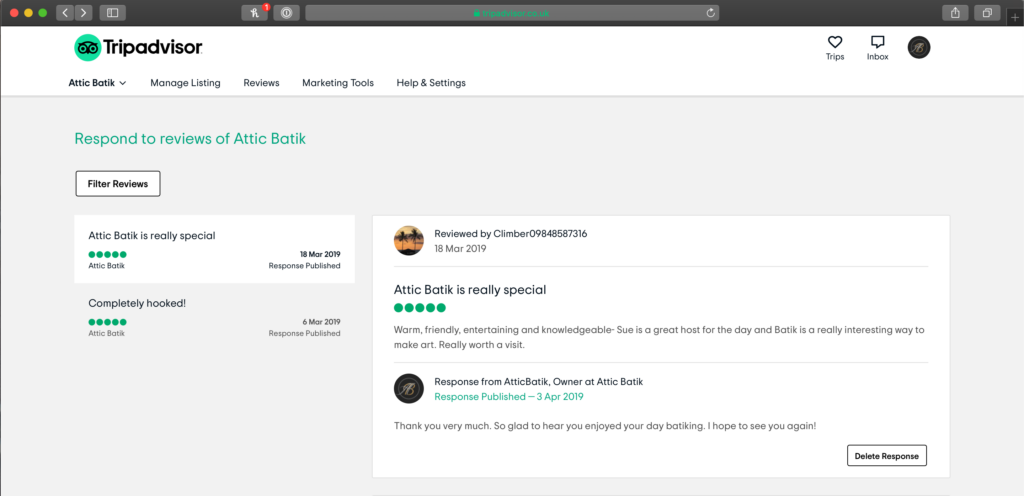 Edit by Sue: I do not understand why my reviews have been removed by Tripadvisor, but thankfully I took screenshots of some of them before they disappeared. I had a full-star rating.
---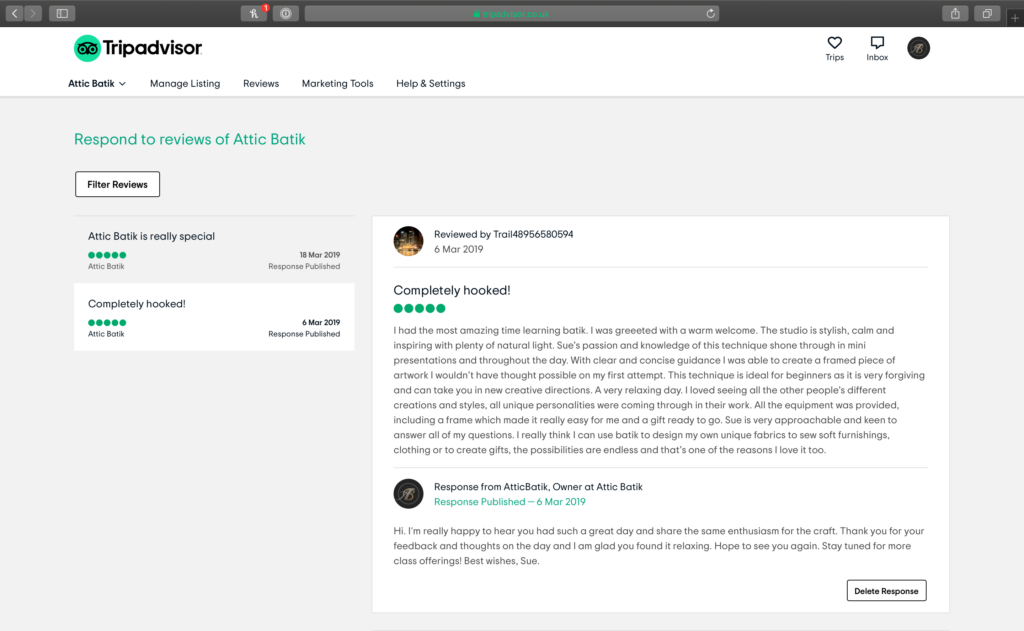 ---
"I had an absolutely fantastic day with Sue. She is very knowledgeable and talented. I learnt so much! The studio was a comfortable, inspiring and a warm place to spend the day in. Plenty of tea/coffee/biscuits throughout the day with some lovely homemade soup and bread for lunch. (Sorry, but we no longer provide lunches since COVID). Sue quietly instilled confidence in you throughout the day if you were feeling unsure, as I was, for not being very "arty". When I shared my Batik with my family they were really impressed. My husband said he would like one so I will be booking again. Thank you Sue for such a relaxed and enjoyable day. I would highly recommend this course to anyone." ~ Amarjeet C
---
I highly recommend this course. I had such a brilliant day learning a new craft. Sue was so welcoming, put me at ease from the start and was incredibly generous with her time. The studio is lovely with a calm, relaxing atmosphere and filled with beautiful and inspirational works of art. Sue was an excellent and encouraging teacher offering guidance throughout the day. I plan to continue developing my skills in this medium, and I would love to do another course with Sue if offered." ~ Sharon G
---
"A beautiful studio with so many inspiring ideas displayed. Sue is just wonderful, a great host and teacher. It was such a relaxing day, everything was explained and there was no rush. The materials were all prepared and were of such quality and choice. I thoroughly enjoyed learning the art of batik, so much in fact that it is something I would love to
continue to do. Your end result is beautifully framed, and to walk away with such a professional work of art that you have made could not make you feel more proud. I would recommend Sue and her course to anyone. Thank you so much Sue for a wonderful day." ~ Sarah G
---
"I signed up for this workshop on the spur of the moment, wanting to try something completely different. I'm not an artist but have creative leanings and thought this may be a new outlet. Sue was a great teacher with a balance between teaching the skills and letting creativity flow. The day just whizzed by – it was so absorbing and relaxing. It's a beautiful studio that inspires creativity. Everything is to hand and of a high quality. I was so pleased with my finished piece and has won the admiration of family and friends." ~ Helen P
---
"I had the most amazing day learning batik. Stylish studio with great feel and a very warm welcome. Sue did short demonstrations and encouraged questions. It was lovely having the day to relax, explore and learn techniques used in this craft. I still am blown away by the versatility and scope reflected in everyone's work on the day….I have the batik bug!" ~ Annette C
---
"What a great day this was. Sue has created a warm welcoming space in which you can just relax and play
with interesting techniques and gorgeous coloured dyes. You choose how your piece develops and the
variety of different effects is amazing. This is a real treat!" ~ Jo S
---